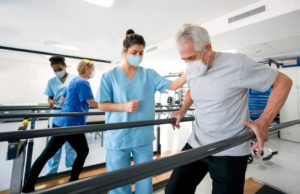 For most people, daily activities like tying a shoe, writing a note, or taking a walk can be completed with little to no effort.
When everyday tasks become difficult, occupational therapy (OT) may be able to help. Occupational therapy is based on activities that encourage patients to contribute to their own recovery, strengthen and re-educate muscles, and teach skills for daily living. It addresses fine motor development, along with the movement and strength of the upper extremities.
Here are 3 ways occupational therapy can help you:
1. OT can help children reach age-appropriate milestones
Crawling is an important milestone that plays a factor in future physical and mental development. Crawling on hands and knees helps babies build motor skills and neck and upper-body strength while promoting hand-eye coordination, concentration, and memory. For children with delays, occupational therapists recommend types of play to boost their development. Tummy time, balls, wooden blocks, and crawling tunnels are useful tools to get babies moving.
2. OT can help seniors age in place
Occupational therapy can help older adults live independently longer. For those who have experienced a stroke or other health setbacks, an occupational therapist can work with the patient to restore basic self-care skills such as getting safely in and out of bed, showering, medication management, and meal preparation.
Reduced vision from conditions including glaucoma, diabetic retinopathy and macular degeneration can interfere with the ability to perform everyday tasks. OTs can help people with low vision manage safely and effectively and decrease the risk of accidents.
3. OT can help improve gross and fine motor skills
Gross motor skills, such as walking, running, and sitting upright can be challenging for someone undergoing cancer treatment, battling arthritis and chronic pain, or following a joint replacement. Fine motor skills, like picking up a spoon, is not a simple task for someone recovering from a stroke, spinal cord injury or burns.
In children, fine motor skills may include holding a pencil or using silverware at an age-appropriate time. Jumping, standing on one leg, or going up and down stairs can be difficult for a child with poor gross motor skills.
OTs can develop a therapy plan to improve the way you perform daily tasks it to make it easier or less painful.
Independent Health & Therapy: 2028 N. Seminary Ave., Woodstock, IL 60098, 815-338-3590, www.independencehealth.org