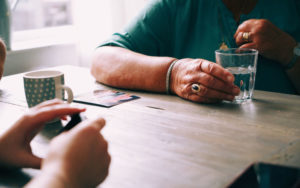 While adult day programs are commonly associated with seniors, this program also serves individuals with chronic health conditions, those with the inability to manage independently and adults who are isolated or lonely.
Seniors who seldom see anyone outside of their own family often feel loneliness, a condition associated with depression. In addition, studies show that social isolation is linked to dementia, decreased resistance to infection, increased emergency admission and high mortality risk.
Services are designed to provide social and health services to adults who need supervised care in a safe place outside the home during the day. They can also socialize with their peers while still having access to health and personal care services.
Independence Health & Therapy in Woodstock offers the most comprehensive Adult Care model in the region. A fully customized, patient-centric care program, it includes services ranging from physical exercise, behavioral therapy, and speech therapy to music and art therapy.
Steady attentiveness allows Independence Health & Therapy to respond to their clients' needs and report on their progress on a continual basis. Certified nursing assistants (CNA's) provide the care and a registered nurse (RN) monitors client medication and health.
This involved, collaborative model allows individuals to age in place, avoid hospitalizations, and minimizes the need for expensive in-home caregivers or long-term assisted living arrangements.
Independence Health & Therapy offers door-to-door transportation services as part of its programming to take the transportation burden off family caregivers.
As a non-profit, Independence Health & Therapy programs are subsidized through grant funds from United Way, the McHenry County Senior Tax Fund, and the McHenry County Mental Health Board that enables them to provide care for those who may not otherwise be able to afford it.
Adult day care is a great senior care option for elders who need assistance but still want to live at home. Adult day services can help relieve some of the stress, anxiety or exhaustion associated with caregiving.