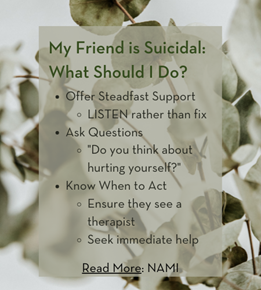 Suicide has hit too close to home for too many of us. Whether it is a family member, a friend, or a friend of a friend, it is all too close! In fact, suicide in McHenry County is a critical concern. In the first half of this year, there have been 18 deaths by suicide in our county. As a community, we are in this together and since September is Suicide Prevention Month – let's make it okay to talk about suicide.
According to the National Alliance on Mental Illness (NAMI), suicide is the second leading cause of death among people aged 10-34 and is the 10th leading cause of death in the United States. NAMI also reports that 46% of people who die from suicide had a diagnosed mental health condition. Those statistics are stunning! The battle is real.
As an organization that provides behavioral health services, Independence Health & Therapy is on the front lines of this battle. When asked how to help a loved one in crisis, Dr. Raida, one of our psychiatrists, stated, "All comments about suicide need to be taken seriously. Depression can be a risk but does not have to exist for a suicide to occur. Special consideration should be taken with those that have any risk factors such as older males, those with active substance use, those with serious, life-altering medical conditions, recent severe stressors (e.g., loss of a spouse), and a history of self-harm."
This battle is complex and is not a battle to be fought alone. We need a community that is fighting together to provide education and resources.
Two prominent organizations in our community fighting this battle are the McHenry County Mental Health Board (MCMHB) and National Alliance of Mental Illness McHenry County (NAMI). These organization recently became co-leaders of the McHenry County Suicide Task Force. This is a collaboration of county organizations whose mission is to raise awareness of mental health and suicide prevention, provide education, implement prevention programs and provide support for those affected by suicide within McHenry County.
In a recent conversation with Alex Campbell, the Executive Director for NAMI McHenry County, he shared about a free program available to county residents – QPR Gatekeeper Training for Suicide Prevention. This was initiated in 2015 by MCMHB and now NAMI partners with them to provide this training. QPR teaches people how to Question, Persuade, and Refer someone to help. Since its inception, 15,000 gatekeepers have been trained in our community.
An amazing resource made available through the McHenry County Mental Health Board (MCMHB) is the MCHelp APP. This app can be downloaded for free and is anonymous. It allows a person to talk or text confidentially with a licensed mental health counselor 24/7!
Independence Health & Therapy is a resource as well. We offer a full range of behavioral health services, administered in an outpatient setting – including counseling for all ages and psychiatry for adults over 18 years of age.
A community that stands together to provide education and resources in the fight against suicide is a community that will make a difference.