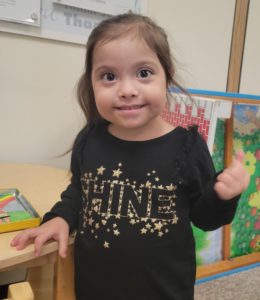 When parents first receive the news that their child has Down Syndrome (DS), it can be scary. Most of the fear comes from the unknowns. Sharing stories that raise awareness can help to calm the fear, give courage to face the challenges, and allow room to experience the joys that come with having a child with DS. October is Down Syndrome Awareness month, and we want to take this opportunity to introduce you to Aby.
Aby is a three-year-old that has been coming to Independence Health & Therapy (IHT) twice a week since March. As is the case with many children with DS, Aby is capable of reaching developmental milestones – she just needs a little help. That is why her mom, Patricia, started bringing her to IHT to receive physical, occupational, and speech therapy. Since coming to IHT, Aby's mom has noticed that she is more open to learning new things. "She used to get frustrated when she couldn't do something, now she keeps trying and she celebrates herself," says Patricia. Another thing Patricia has noticed is that Aby interacts with people better and is more friendly.
When asked why Patricia chose IHT for these services she said, "I heard a lot of good things from a friend that used to work here. I have lived in this community for 22 years and did not know about IHT. I want others to know about it. I love the program and all of the professionals that work with my daughter."
Patricia shares, "Having a child with Down Syndrome has changed my life. I remember the day they told me I was having a baby with DS. I was scared. People in my culture don't know about DS. I was nervous to tell my family. I called my sister and cried as I shared the news. After a pause, my sister said, I am so excited to have a princess with DS in our family. I was so relieved. Now Aby is a big blessing. I am learning a lot from her. We love her so much."
Information is power! Raising awareness, especially about the services available, will help alleviate the fear surrounding Down Syndrome. Independence Health & Therapy is privileged to provide some of the services that allow children with DS to reach their highest potential.